Frank Gehry: Enabler of Terrorists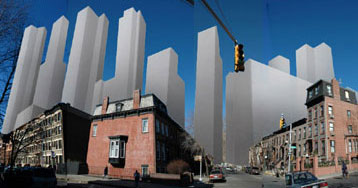 In 2003, Bruce Ratner, the developer of Brooklyn's Atlantic Yards project, located at Brooklyn's busiest intersection, got Frank Gehry to "design" the densest ever-urban tract in all US history. The dazzle would be a glass sports arena with adjoining glass skyscrapers and a towering glass entrance leading into the urban transportation hub beneath. No matter that the station below was the target of suicide bombers in 1997.
Thinking about "Post 9/11" makes clear the project's many security deficiencies, and their on-the-ground consequences for traffic, pedestrians, public safety, added costs, insurance availability and affordability, etc.. Every affected Community Board, several local politicians & over 30 local community groups have thus demanded that the required Environmental Impact Statement (EIS) also include impacts created by the existance of terrorism.
Nevertheless, late in 2006, in response to material I submitted, the State declared that it was not "reasonable" to consider explosive devices as a worst-case scenario. This bizarre take on the idea of "due diligence" is now being contested in a lawsuit in the state courts.
"Post 9/11" calls up many sets of complex ideas, memes.* It is among the most potent mental artifacts of this new century's experience. In connection with this slow motion train wreck of a project, the meme "Post 9/11" suggested that NYC's "environment" must now include terrorism as San Francisco's includes earthquakes, or New Orleans', flooding.
March 2008
Authored letters:
* For the ideas behind "memes", click on NOTES ON INTERVENTIONS